In just a few short months, coronavirus has upended our normal business practices as we know it – we've seen massive layoffs, brick-and-mortar stores closing down, and strict hygiene measures put in place for 'essential services'.

The burning question is, how long will this last and importantly how can your business come out even stronger on the other side? 

Here's what you can do: 
Keep in contact and focus on your stakeholders
Some practical steps your business can take is to turn your focus to your staff, customers, and partners – and consider how best to respond to 'their needs'. 
Keep your customers informed
Start by developing content related to how your business is responding during this time, and remember to keep your customers informed across all channels – including emails, website and social media.
ASOS

is doing a great job with this type of communication and transparency. As a clothing company, they're distributing frequent emails outlining how orders, deliveries and returns will be progressing – as well as how they're looking after their team.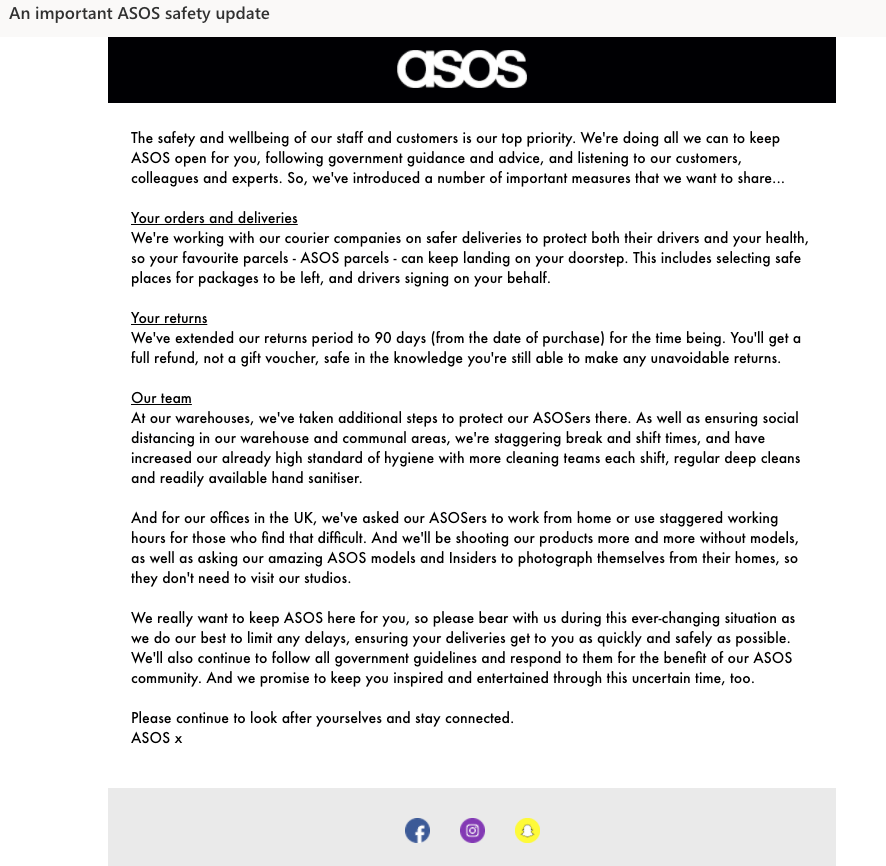 Speak to your customers or clients directly.
If you're in an industry where it would be appropriate, consider going the extra mile and calling to check up on your loyal client base. They might be doing it tough, and a personal check-up and chat can mean a lot during these trying times.
Our client, Visco, recently did this – checking in on their clients, who happen to be restaurant owners that are feeling the incredible weight of lockdowns and social distancing on their business. An initiative like this shows that you care outside of the business relationship.
Build Up Your Social Media
As more and more people turn to their tech devices to tackle the emotional burden of self-isolation, social media use is increasing dramatically. With this in mind, there's never been a better time to embrace it – please ensure your content is appropriate and relevant to your customers' interests.
Tip: Remember that your social media is a place for dialogue; speak with your audience, not at them. 
Don't Forget About Digital
Whether it's your company blog, website or Google Ads listings, it's time to start thinking about how you can optimise your digital presence. Start posting blogs that cater to the current interests and concerns of your customers, and refine your SEO marketing strategy to ensure your content is as far-reaching and visible as possible.
Spend Time On Your Business Assets
If there is ever a time to spend on building and enhancing your company assets, it's now. Whether it's updating your brand messaging, developing a new website, designing a new logo, or simply working on projects that have been on the back burner – COVID-19 doesn't have to be all doom and gloom.

Tip: If you're stuck on ideas, the important questions to consider are: am I satisfied with our current marketing procedures? What is my marketing missing?
How should you respond?
As a business, it's important to stand behind your customers and deliver content that resonates with their concerns. At the moment, consumers need support from the brands they know and trust, and what better way to do that than to deliver timely and consumer-conscious content?

If you would like some guidance on how to navigate your messaging, please get in touch. We'd love to hear from you!

Bear team.